FREE INSPIRATIONAL BOOKS
Mary's Christmas Gift by Jack Zavada
Mary's Christmas Gift is a modern story about a struggling single executive, Mary Chapman, who has her faith restored when God answers her prayers in an unexpected, spectacular way.
This uplifting 73-page short novel is filled with hope and happiness and will remind you that there is a God, that He is good, and that he loves you more than you can ever know.
Click on the link below to read or download this free ebook:-
Mary's Christmas Gift – 74 pages (PDF)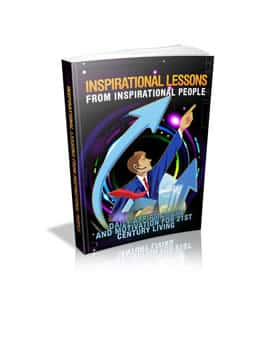 Inspirational Lessons From Inspirational People
by Mohammad Kassem
This eBook highlight the individuals that have really made a difference with their own way in the world, hopefully forth their messages will supply mighty reminders of faith, humanity and peace in your life.
Click on the link below to start downloading this free ebook:-
Inspirational Lessons From Inspirational People – 54 pages, 10.7 MB (PDF)
Items posted here are free at the time of posting. If you find they are no longer free, kindly notify us immediately through our contact form.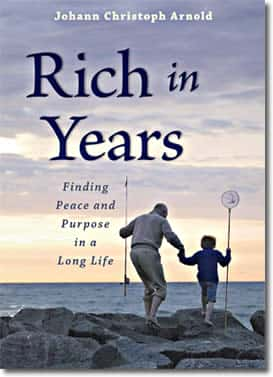 Rich in Years: Finding Peace and Purpose in a Long Life
by Johann Christoph Arnold
Why shouldn't growing older be rewarding? Johann Christoph Arnold, whose books have helped over a million readers through life's challenges, wants us to rediscover the spiritual riches that age has to offer. Now in his seventies, Arnold finds himself personally facing the trials that come with aging. But he knows, from decades of pastoral experience, what older people and their caregivers can do to make the most of the journey. In this book, he shares stories of people who, in growing older, have found both peace and purpose.
In this compact yet compelling book, Johann Christoph Arnold brings the reader a wealth of personal stories about growing older – a time when opportunities flourish for living with purpose in union with Jesus. In simple language, he gives hope-filled insights into the trials of aging for people of all ages. Pastor Arnold's book challenges those rich in years to also remain rich in faith.– Cardinal Dolan, Archbishop of New York
Free inspirational

E-books
The Art of Happiness – Inspirational
Happiness is something which is meant to be shared with others. Here is a great collection of free e books for you to download with a brief review of what each one is like.
Most of these documents are in Adobe reader pdf format. Get Acrobat Reader
To save the file just right click your mouse button on the title of the e book you wish to download and then click "save target as" and type in the location on your computer you want the ebook saved. Please tell as many people as possible about these free ebooks.
EBooks about Happiness
Happiness Book
An interesting little book about the sort of life to live to experience happiness
Avas Flowers – Flower delivery is a great romantic idea for your relationship. Avas Flowers has beautiful flower arrangements for every relationship.
A special little book guaranteed to bring lots of love and romance into any relationship.
Affirmations Course
Inspiring little course that teaches you what affirmations are and how to get the most out of them.
As a man thinketh by James Allen
A timeless classic about how are thoughts create our world and everything we experience
Acres of Diamonds
A wonderful fable about a search for a dream only to discover it was in the back yard. This inspirational classic is a must read.
Affirmations Course
Inspiring little course that teaches you what affirmations are and how to get the most out of them.

Helen Keller's Autobiography
An amazing story of how this was able to overcome being both deaf and blind and attend college at a time when few women did. Highly recommended by Sofan.
Positive Aproach by Peter Shepard
The Positive Approach is a great home study course intended to help you become more clear about your own identity and what you want in life.
Interesting ebook which deals with focusing the mind.
Transforming the Mind by Peter Shepard
Very insightful book into the amazing power that awaits you when you transform your mind.
Buddhist FAQ's  by Ven S. Dhammika
A wonderful introduction to the teachings buddha and basic buddhist thought.
ebooks for abundance and success
365 Success Quotes
Some beautiful, short, inspirational quotes for each day of the year.
Consciousness and Success by Remez Sasson
A collection of articles about obtaining spiritual and material success.
Miracle of Tithing
This short book describes all of the wonderful benefits that come into your life when you give away a small part of your income on a regular basis. It's like planting seeds which multiply and return many times over.
Spiritual Marketing by Joe Vitale
Written by marketing guru Joe vitale, this book is about far more than the possible spiritual sides of business. A highly recommended read.
The Science of Getting Rich  by Wallace. D. Wattels
An amazing book about the power of using your mind to create what you really want. A must read.
Think and grow rich by Napoleon Hill
One of the greatest books ever written about how to get what you really want was Think and grow Rich" by Napoleon Hill. This book is about far more than just making more money. A wonderful guide to living a "rich" and fulfilled life.
Think and grow rich workbook by Pat O' Bryan and Joe Vitale
This is a study workbook created by Pat O' Bryan and Joe Vitale. Worth reading. Makes a great companion to Think and Grow Rich.
365 Success Quotes
Some beautiful, short, inspirational quotes for each day of the year.
Bookmark  This page, more ebooks are being added regularly.
If you have enjoyed these free ebooks, please let as many people know as possible about the art of happiness free ebook library.